When Lolita Meets Fluffy
Lolita fashion includes some breathtaking styles and designs, unlike ordinary clothing. However, Lolita accessories form the core element that makes the whole outfit stand out. And, the accessories start from the head and end at the toes. Still, a Lolita can add headwear to improve the overall look.
When it comes to headwear, they are pieces of fabric that tend to arc over the head. Besides, they are made of ribbons, lace, fabric, and other accessories. Apart from the bonnet and berets, you can find animal ears headwear that is made of premium materials and looks cool. Let's learn more about them in this post.
Understanding Lolita headwear:
As said, accessories are what make a Lolita outfit complete while making the overall look amazing. However, headwear makes the outfit more attractive. Because Lolita fashion is all about cuteness, wearing pastel colors is the main essence apart from other color codes. So, it is important to choose the headwear according to the outfit you are wearing.
Different types of headbands such as bonnets with lace and butterfly, side clip, headbands, etc. are attached to the hair to make the Lolita look amazing. In addition, there is a unique accessory that makes the Lolita even more ravishing. It's called the animal ear accessories.
On top of that, many Lolita outfits compensate for the style and they are inspired by animals. Or, you can say that the dresses go well with animal ear accessories. These accessories are made with high-quality materials and are durable enough to last for many years.
As such, you don't have to worry about them when wearing the same with matching outfits. Also, they are lightweight so that they stay in the right place without making you feel burdened with an extra load. Besides, they are great for cosplay costumes as well.
No wonder, when Lolita's outfit meets fluffy headwear, you can have an impact on the overall dress that you are wearing. If you are not sure about the right match, you can consider a few recommendations in the section below.
1. Rabbit ears headband along and a beautiful Lolita dress
Here is a beautiful collection of rabbit ears hairpins and a classic Lolita short dress that you can't afford to miss. To begin with, the rabbit ears hairpin sweet Lolita headband gives you an elegant look unlike other types of headwear you find around.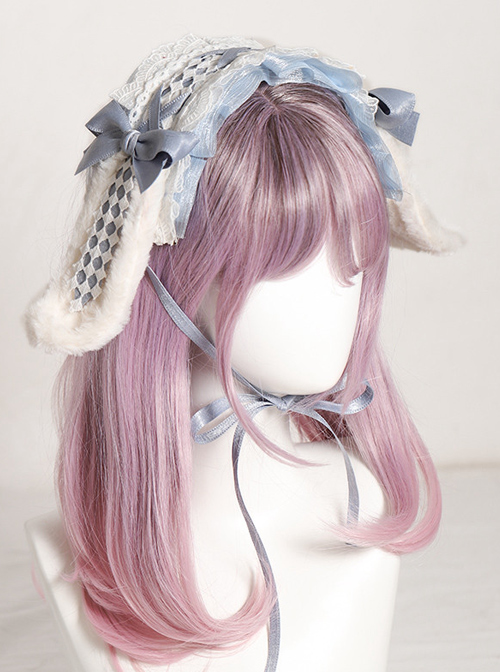 You can use these rabbit ears as hairpins either with your hair or when using a wig. It has a lace that allows you to tie the headband on your chin. To get the right combination, you can consider a classic Lolita short dress. Both the accessory and dress make the outfit more appealing.
The vivid blue color of the rabbit ears and the gorgeous pink color of the classic Lolita dress makes a good fashion statement apart as well. The dress has bowknots all over and the cotton fabric makes it more comfortable to wear in warm weather.
2. Bear ears with an amazing brown halter dress
Next on this list features a plush bear ears headwear and a sweet Lolita sling dress. The best part about the combination is that they look gorgeous because of the brown color. The bowknot bear ears are made of polyester and look great on the wearer.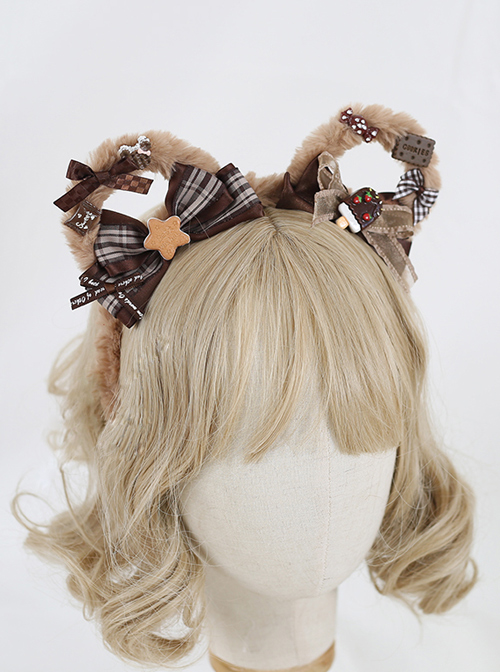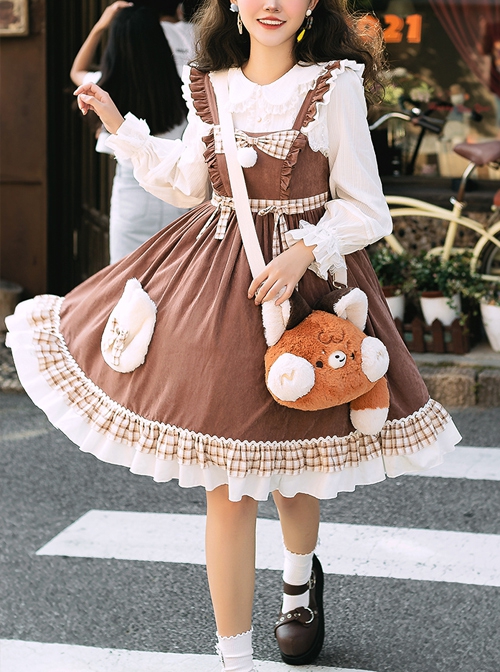 Besides, the bowknots are not the same and come in different styles to look unique. To make the most out of this accessory, you can consider wearing it with a beautiful Lolita ruffle sling dress. While the bowknot design in the front of the sling dress appears normal, it adds a contrast to the outfit.
Apart from the brown color, you can choose red and pink as well. Also, you can wear other kinds of accessories with the dress if you want to. The hem design at the lower part of the dress reflects cuteness in every aspect.
3. Lamb ears and a pastoral dress
If you don't find it interesting to try the rabbit or bear ears accessories, perhaps you can try another design. Check out these cute lamb ears sweet Lolita earmuffs that not only look gorgeous but also function well. They are a wonderful addition if you don't like to wear a hood especially when the wind is blowing.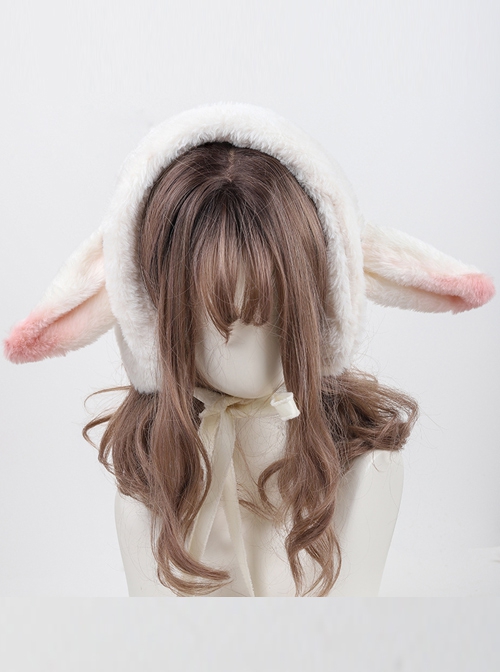 Made from high-quality materials, these animal ears accessories provide you warmth as well. The best part about the accessory is that it is fluffy and covers almost every part of your head specifically your ears.
While these ears look great, the white apron pastoral style Lolita long dress is equally beautiful as well. Made with chiffon, this long sleeve Lolita dress gives you the right comfort that you can expect. Both the pastoral style dress and lamb ears earmuffs are a great combination that is hard to resist.
4. Cat ears and a kitten maid dress
Nothing can beat a cat-styled outfit when it comes to sweet Lolita fashion. This plush cat ears headband is an amazing hair hoop that brings out the cuteness while adding a bit of cosplay to it. What makes it unique is that the animal ears come in a different color combination that helps you find the right one for your needs.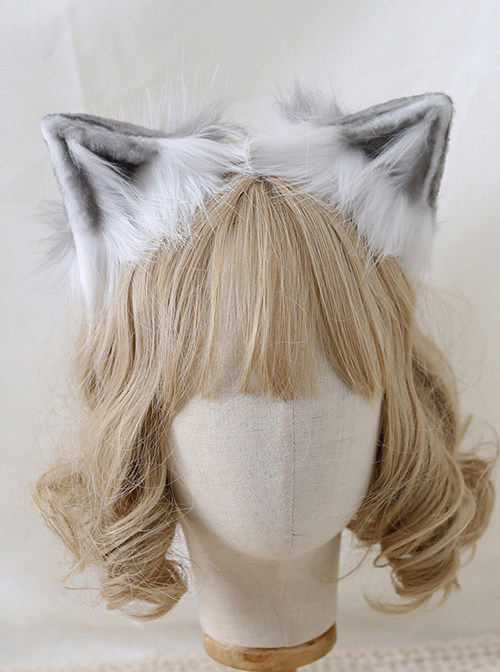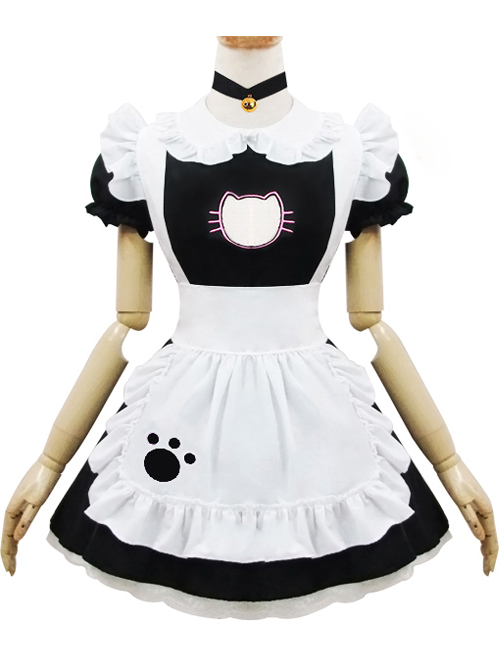 Furthermore, to make the accessory even more attractive, you can opt for this short sleeve costume. The best part is that it has a sexy little cat embroidered on the front. And, a print of a cat's paw. The dress comes with an apron and neck ornament as well. It's an attractive combination that you should give a try.
In a nutshell, animal ear accessories along with the Lolita dress make your overall look sweet and cool. Besides, it adds more elegance, innocence, and a refined style. In short, it brings out the cuteness and girly look inside you. However, make sure that you get the right matching.
Now that you have seen some of the gorgeous animal ears, you may want to give them a try. So, what's the wait for? Are you ready to give this new style a shot? Explore the collection mentioned above to find the right one that helps you fulfill your needs in different seasons.