What Is Old School Style Lolita - It's Classic, Retro And Advanced
Lolita style or fashion is one of the subcultures from Japan. This style is quite influenced by the clothing styles of the Victorian period. This style is characterized by aesthetics and cuteness. The Lolita culture is getting a lot of popularity and getting richer day by day. With the rise of its popularity, many people are getting to know about this style.
But there are many who do not know how to choose the best Lolita dress for themselves. The love for old-school Lolita-styled dresses is quite prevalent among a few people. But you must know that many of these Lolita dresses are out of print. Hence, these dresses are quite rare and hard to find.
So, we have started to look for some replacements for the Lolita dresses and skirts. We have found some great alternatives for you. Read on.
Characteristics of Old School Style Lolita
The alternatives for the old-school Lolita style outfits come with different elements and styles based on old-school fashion. These alternatives made sure that they use all the details and the unique elements of the Lolita style. These include - cotton fabric with the use of laces along with other features too.
When you are looking for an alternative option, you need dresses with mostly solid colors along with delicate and simple designs. These are some of the main characteristics of the Lolita dresses.
Moreover, these dresses are characterized by patchwork sleeves, straps and lace too. You can find simple dresses as well as dresses with embroidery. Most of these dresses are decorated with bows and ruffles to make them look aesthetically cute and pretty.
Alternatives for Old-School Lolita Style Outfit
The Lolita dresses have some special characteristics and features that you need to have in your dresses. Based on all the characteristics mentioned above, we have found some of the best alternatives for Old-School Lolita style dresses that you can choose from. Below, we have listed all the options that we have found best suitable for old-school Lolita dresses: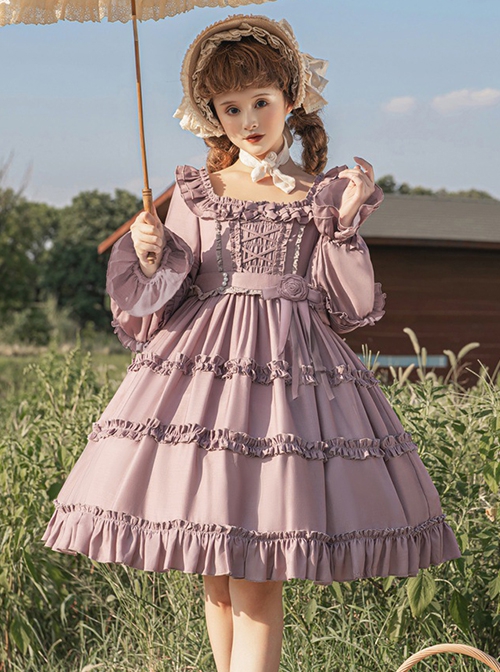 When we talk about the solid color dresses with ruffles and bows, then this old-school dress Lolita square neck is the best option for you. This dress comes with long sleeves along with beautiful rose decorations. The most amazing part of this dress is the purple color which is quite stunning.
The beautiful square neckline is designed with ruffles and a bow. However, the best thing about this dress is the ruffled lantern-style bottom part and the sleeves. The rose decoration near the waist also looks quite pretty and cute.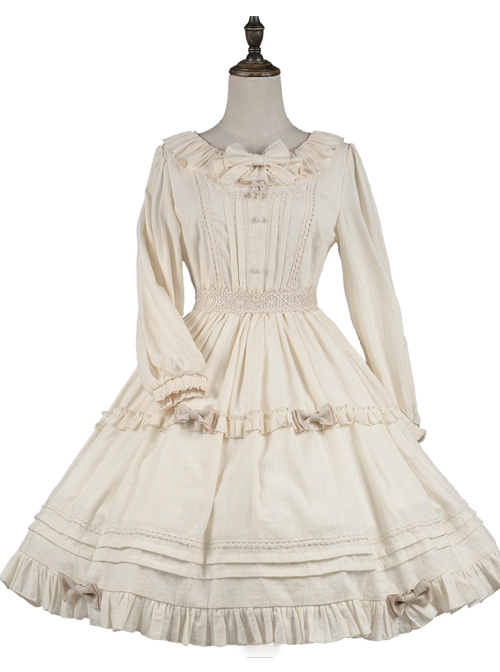 If you are looking for a cute long sleeve Lolita dress, then this cotton jacquard one can be the best pick for you. This apricot-colored dress is made up of pure cotton. It is characterized by a round neck where the neckline is decorated with ruffles and a bow in the middle.
Besides that, the beautiful lace work near the waist and pleats below that have made this dress look really beautiful. The long sleeves are well designed with ruffles, in the end, to make it look very girly and feminine. The bottom part is also designed with ruffles along with bows.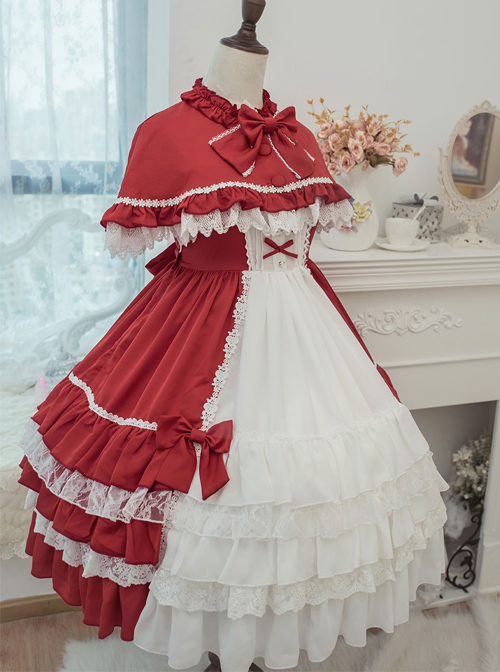 If you are interested in buying a Lolita dress with straps, lace and patchwork, then you can pick this one. This multi-story classic Lolita dress comes with an elegant bow-knot design. The cloak-style design over this sleeveless dress looks really beautiful and stunning. It is characterized by buttons, lace work and a big bow in the front.
The best part of this dress is the bottom of the dress which comes with multiple layers along with lace details. You can get this dress in different colors like red, purple navy blue or light blue. Each and every color looks stunning with a perfect contrast with the white color.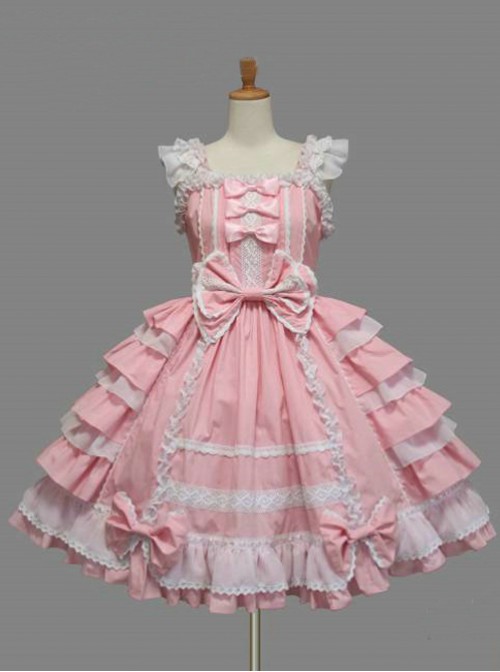 You can doll yourself up with this beautiful and pretty old-school Lolita sling dress. It is a sleeveless dress that is designed intricately with ruffles and bows. The most eye-catching part of this dress is the lace work. The dress showcases a huge bow right in front where the upper part meets the bottom part.
The most striking feature of this sling dress is the layers and lace work in the bottom part. With a combination of sweet pink and white, the layers created are in a ruffling design. Overall this dress exudes elegance as well as a very pretty Victorian touch. It will really look beautiful if you can accessorize your entire look properly.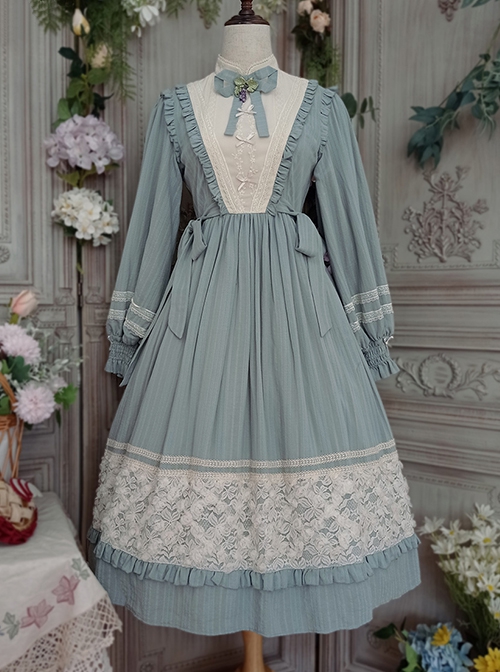 If you are looking for a classic Lolita dress with old-school characteristics like bow, ruffles and embroidery, then you can surely choose this. This simple and classic Lolita embroidered dress can look really amazing as it is designed with jacquard lace work. Along with that, you will see some intricate embroidery work along with ruffles.
The pleated bottom design and long sleeves can make this dress look really amazing and classic. The end of the sleeves is designed with pleats and elastic to give the sleeve a fuller look. You can get this classic Lolita-style dress in two color options - apricot and blue. The neckline of this dress looks really smart and it is designed with a classic bow brooch for decoration.
Though Lolita dresses are getting a lot of popularity these days, there are very few places where you can find the actual designs or styles. So, to make it easier for you, we have shortlisted the top 5 best Lolita dresses that you can choose for your wardrobe. Hopefully, you can look into all these options and pick the best one that you will love to wear. There is no denying that these outfits look really cute and pretty with some impressive detailing and intricate works. What are you waiting for then? Pick the best dress from here to attend the theme party or the dress-up party that you are planning to attend wearing one of these Lolita dresses.