Tips For Picking Inside Petticoat
An inside petticoat should fit comfortably around the waist and hips while not being too tight. It can be made from a variety of fabrics, including cotton, satin, lace, or tulle. The length of the petticoat should extend just above the knee and under any layers of skirts. To give your Lolita outfit more volume, you can also add an extra layer of the underskirt, such as a frill petticoat or crinoline. This will make the skirt stand out and help to create a fuller and more dramatic look.
Wearing an inside petticoat can bring out the best in any Lolita dress. It gives a beautiful silhouette to the skirt, emphasizing your waistline and adding volume and flow to the skirt. The delicate layers of tulle or lace create an ethereal feel that is sure to turn heads. An inside petticoat is also great for keeping your outfit looking neat and tidy while dancing or when you're playing around in it! With its graceful shape, an inside petticoat will make you look like a true Lolita princess with elegance and poise. Not only does it provide structure and support for your dress, but it also gives you a wonderful opportunity to customize your look with different colors and textures! From classic white lace to bright pink tulle, there's an inside petticoat for every style. So don't forget to add that extra bit of magic to your Lolita look with an inside petticoat!
Pairing the right accessories with your inside petticoat can enhance its beauty even more. A lace parasol or a matching headpiece will give you an elegant and polished look while still staying true to the sweet aesthetic of Lolita fashion. Or, if you want something a little more creative, try adding some rhinestones, ribbons, and other decorations for a unique touch! With so many options available, you're sure to find the perfect way to accessorize your inside petticoat and make it your own.
Classification of Material
1. Fishbone Long inside Petticoat
If you're looking for a reliable petticoat that will last you a long time, then the Fishbone Long Inside Petticoat is perfect for you! This petticoat features an adjustable waistband and metal fishbones sewn into the sides of the skirt to provide support. This petticoat is characterized by its long length and sturdy, fishbone-shaped structure. It comes with adjustable waist and hip measurements, making it easy to adjust for the perfect fit. It is made from a chiffon or lace material that will give you a feminine yet sophisticated look. The fishbones provide support for your skirt, giving it extra structure and shape without sacrificing comfort. The material is made from chiffon or lace, and it has a full-length inside liner ensuring maximum coverage. The skirt also has several layers of tulle to add volume and fullness under your dress.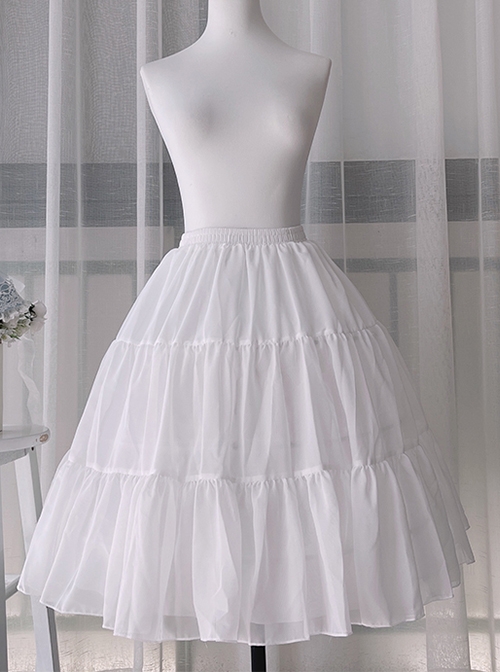 2. Cotton Candy Petticoat
This long Cotton Candy petticoat is soft and fluffy, perfect for achieving the sweet lolita style. The tulle construction adds stability while still allowing the fabric to move along with your body as you walk or dance. The cotton candy-shaped design provides additional volume and texture; while the adjustable waist lets you customize the fit. The petticoat is available in white to give an elegant and timeless look. It's perfect for everyday wear or special occasions. Its lightweight design also makes it a great choice for hot weather since it won't make you sweaty or uncomfortable during your activities. A cotton candy petticoat is sure to be a staple in any girl's wardrobe!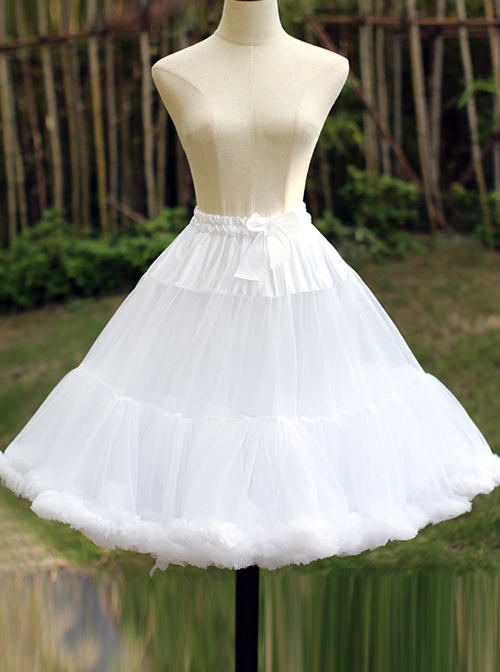 The Cotton Candy Petticoat is ideal for sweet lolita fashion! This petticoat comes in white and is made from soft, fluffy material such as cotton candy tulle or hard tulle. It has an elastic waistband and several layers of stiff tulle, which provide the volume and fullness needed to create a dramatic look. The inside lining is shorter than the outside layer, ensuring a cute puffy look underneath your dress. This petticoat also comes with adjustable straps to customize the fit according to your body type. This petticoat is perfect for creating a dreamy look and is sure to make you stand out!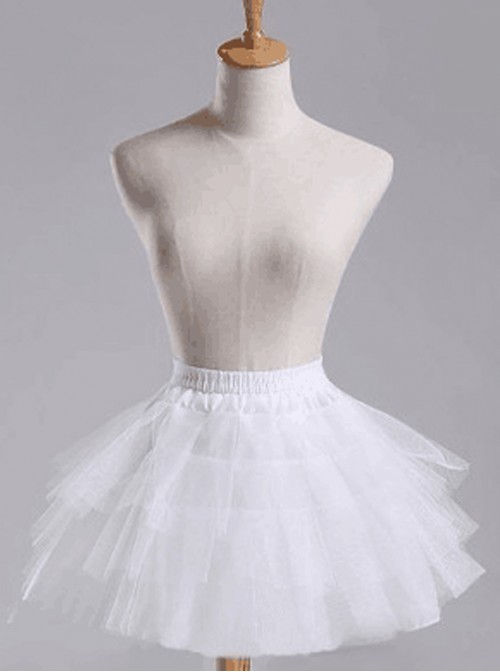 The difference between normal daily petticoat and violent petticoat
The inside petticoat is an integral part of a violent petticoat. It helps to protect the wearer from potential harm and injury that could be inflicted by another person or object. The inside layer of a violent petticoat is usually made from thickly woven fabric or synthetic fibers, designed to absorb any blows and reduce the impact of rough contact. In some cases, it can also act as a type of padding to help shield the body against blunt force trauma.
While normal daily wear petticoats are usually lightweight and not meant for protection, violent petticoats contain additional layers of reinforcement which provide more protection in case of attack or abuse. They may also come with pockets that can store small items like pepper spray or an emergency whistle. With the extra protection, violent petticoats are often preferred over traditional petticoats for daily wear in dangerous situations.
How to choose the right Lolita Petticoat
When it comes to Lolita skirts, inside petticoats are essential for achieving the classic look. Inside petticoats come in different lengths and styles depending on the type of skirt you choose. We have some factors that must be considered; they include;
(1) Choose according to the skirt length
A very long skirt usually requires a longer Inside petticoat, as it helps to make the dress look fuller and more voluminous. Short skirts, on the other hand, will require a shorter Inside petticoat to give the same effect without compromising your ability to move freely. It is recommended that you choose an Inside petticoat of the same length as your skirt or just slightly shorter.
(2) Choose according to the style of the dress
If you are wearing a very simple style of Lolita skirt, then an Inside petticoat with lace detailing would be ideal in order to add a bit of character to your outfit. However, if you are wearing something a bit more decorated or ornate such as one of the Gothic Lolita skirts from our store, then it is recommended that you choose an Inside petticoat with less detailing to avoid overpowering the look.
No matter what Lolita dress you choose, an inside petticoat is a must-have accessory to complete the look. Not only will it bring out the best in any outfit, but it also adds that extra bit of magic that every Lolita desires. From providing structure and flow to customizing with accessories, there's no better way to embrace your inner princess than with an inside petticoat! So don't forget this essential piece when putting together your next Lolita ensemble for a truly memorable look.